Marks HK
Chalmers HK
Samling 15:30
Endast kallade kan anmäla sig till aktiviteten. 29 personer är kallade.
Logga in här
Ladies team strikes again!
6 dec, 18:41 0 kommentarer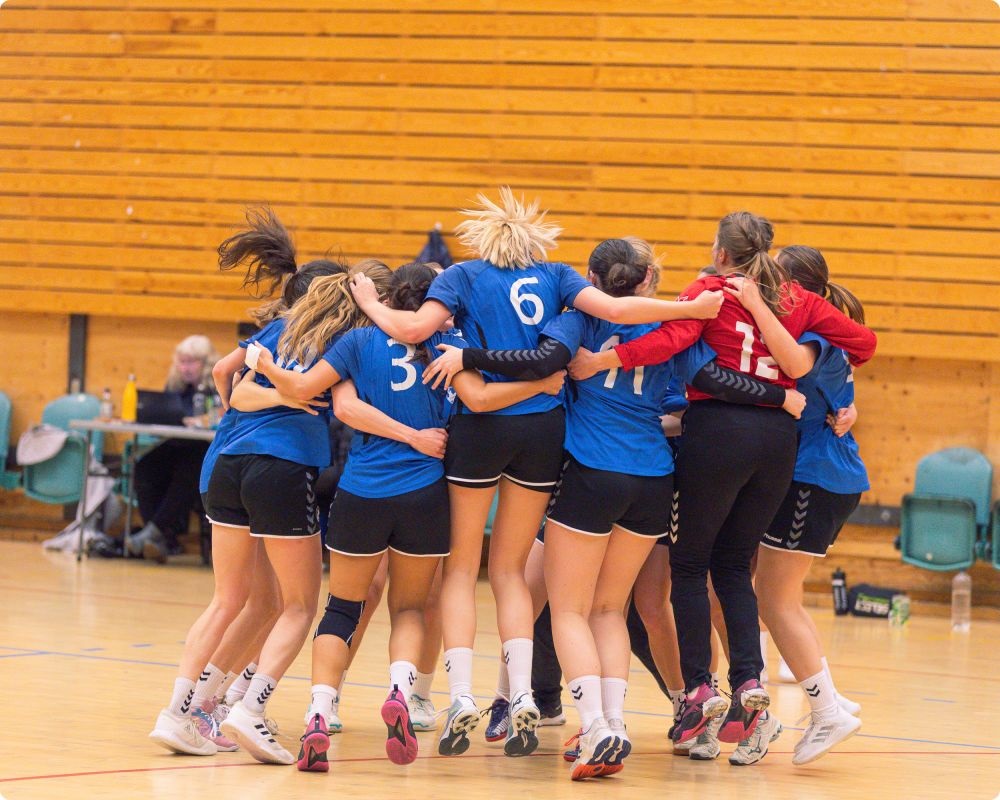 Foto: CFFC/cffc
On Saturday, the women's team made their way to Arenahallen to play against Marks HK, a team we just recently won against in the Extraserie. Because of player shortage, we had a new old face with us: Melissa, who had a comeback in the goal for Chalmers HK.
We start the game strongly with goals through Lotta, Tora and Tilda and lead with 2:6 in the 12th minute after Frieda scored a penalty shot. After they took a timeout, Marks comes back with an updated strategy and manages to shoot some goals from the rear, eventually leading the game in the 23rd minute with 9:8. Even though missing a penalty, we fight us back in the attack with goals from Lotta, Frieda, Tora and Loppan, using the two minute suspension against Marks HK. However, we don't manage to really get the lead back in the game and therefore the 1st half ends with a draw of 12:12.
Coming back in the second half, Marks decided to direct cover Lotta which made us struggle slightly in the attack with a player less to play with. Nevertheless, we also continue to stand strong in the defense which leads to only four goals being scored in the first 10 minutes of the second half. The score is 14:14 now, but with 3 consecutive goals, Ida, Loppan and Lotta bring us back in the game. Through some questionable referee decisions, we miss to score in some attacks and Marks catches up to us. Coach Hanna takes a timeout and we can calm ourselves a little and push each other to fight for the remaining 10 minutes. We reward ourselves immediately through goals from the wings, by Felicia and Elin. Marks concedes another suspension which allows us two more succesful attacks that result in goals through Tora and Elin and the score is 19:23 for us now. The referee decides then for two consecutive suspensions against our team, but we manage to defend well nevertheless, so that Marks cannot really take the advantage of the outnumbering situation. The last minutes are characterized by a slightly hectic back and forth which we keep the upper hand in, and we manage to extend our lead even further. Through a goal in the last seconds by Sally, the game ends with 21:26 and we win well deserved against Marks HK.
Matchens Bomber was Tilda who played 60 minutes straight, stayed motivated and motivated the whole team the entire time, and played a strong defense as well as a successfull attack. An extra big thank you goes to Melissa, it was great to have you with us on the field even if it was only for this one occasion!
After this match, we're on third position in the series. Let's see if we can hold it up during the game against Mölndal on coming Sunday!
Tabell
Dam 3 Väst Sydost
M
V
O
F
GM
IM
+/-
P
6
5
0
1
148
138
10
10
4
4
0
0
119
77
42
8
7
3
2
2
168
173
-5
8
4
2
1
1
123
102
21
5
5
2
1
2
115
118
-3
5
6
2
0
4
122
130
-8
4
5
1
0
4
87
110
-23
2
5
0
0
5
95
129
-34
0