IS Orion
Chalmers HK
Samling 15:10
Endast kallade kan anmäla sig till aktiviteten. 28 personer är kallade.
Logga in här
First Victory 2023!
15 jan, 17:58 0 kommentarer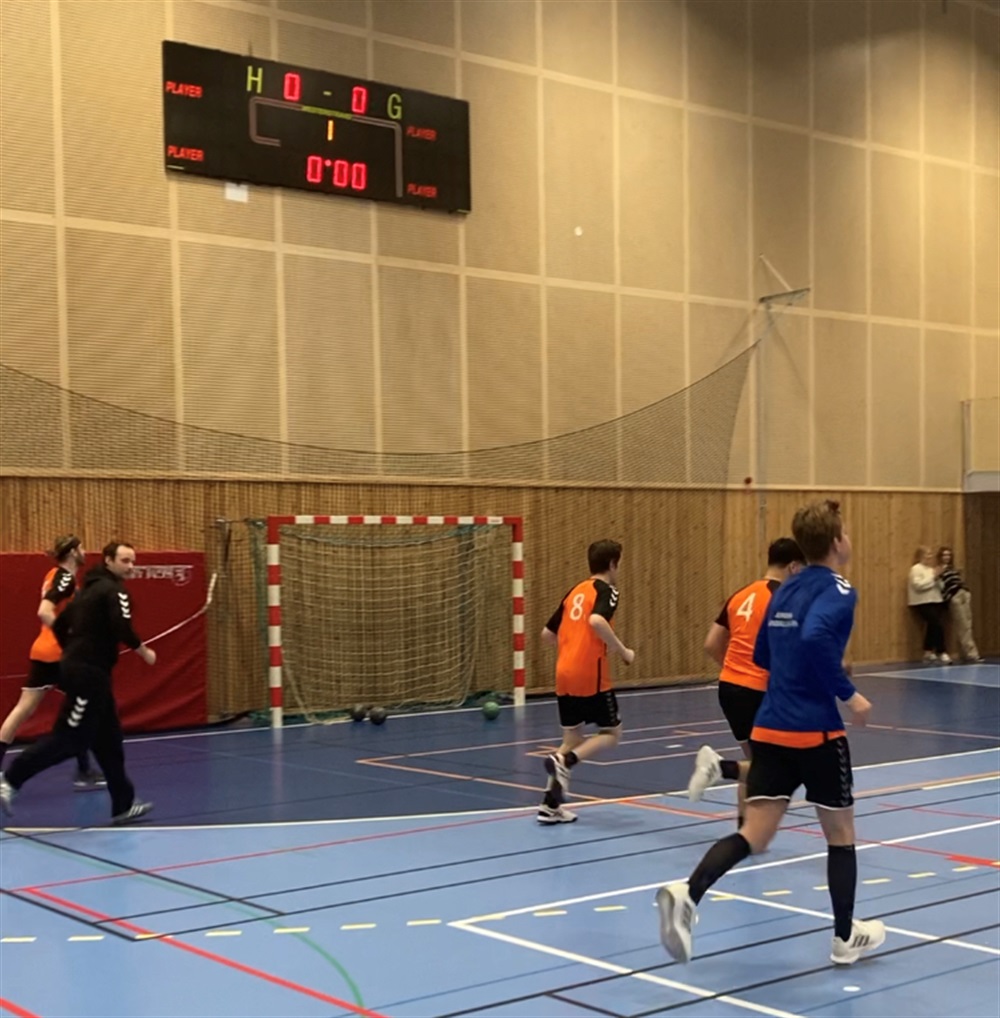 A brave bunch gathered on January 14th to head south and face Orion in Falkenberg. Nine players was all we could spare in-between exam week for our students and Swedens second game in the World Cup being played the same night in Gothenburg.
Nine of us, barley awakened after the Christmas and new year food coma feast. Three players on 9m position, three of us playing wing, one single pivot and one jack of all trades. Stamina and counter attacks was not the base of our game strategy this night. For some of our players this game was the first time back on a court after almost a months break. So the strategy instead was to shift tempo at the right time not exerting ourselves with a fast pace offence.
We start a little shaky. Defence was okay and we win over the ball in many of them. But our technical errors keeps us not scoring enough to go past Orion. They are in the lead by one or two goals throughout the whole first period. Our right back Jesper Keijser, who's back on the field again after a number of injuries, is responsible for the majority of goals at the start of the game, keeping us even. But the past Christmas break takes it toll, making most of us trying to find aim and focus again in our play during the first half. The score board reads 12-11 in favour of the hosting team when we head to the locker room for a half time talk.
Still we are trying to play at a tempo beneficial for our stamina and our winning ambitions. But our main focus in second half will be to try and win some fights in the offence using some speed and get the ball moving in our whole team. The most stamina points in the team is with our wing players and we want to utilise them more in counter attacks and with passes in offence. Also if we can get the ball moving between our nine meter players, with some individual efforts, we have advantages in most of the positions with our pivot.
That is also how we manage to begin the second half. We start focusing, keeping technical errors to a minimum, we fight hard in defence and step up the speed in offence. Therefore we also win the first 10min by 2-6, scoring from a new position in every goal and using all the players on the field. It takes another 5min, a 3-10 win for us during those first 15min, before Orion decides to call a time out. Even though we do not have a lot of substitutes on the bench, we still feel that our energy exceeds that of our opponents at this moment. The player that is fighting the hardest with keeping our team spirit up is our pivot player Julien Dufour. Also creating a lot of room for us and himself in offence, resulting in great scoring opportunities.
After the time out our fatigue became more eminent but we manage to break even with Orion during the last minutes of the game. The final score is set to 22-27. Our most valued player and top scorer of the game is undoubtedly Julien Dufour. With 6 goals and a great attitude that kept us going and eventually win this game. Five players out of nine ended up playing 60min and if there is anything to take from this game is just that, the spirit of keep fighting even when it is tough and that we managed to bring all positions into our offence play effectively.
Tabell
Herr 4 Väst Sydväst
M
V
O
F
GM
IM
+/-
P
16
15
0
1
590
416
174
30
16
12
0
4
470
350
120
24
16
11
0
5
443
383
60
22
16
9
1
6
506
461
45
19
16
7
1
8
358
433
-75
15
16
7
0
9
389
425
-36
14
16
6
2
8
388
425
-37
14
16
2
1
13
394
518
-124
5
16
0
1
15
326
453
-127
1