Chalmers HK
Härryda HK 2
Samling 13:00
Endast kallade kan anmäla sig till aktiviteten. 30 personer är kallade.
Logga in här
Win agains Härryda HK 2!!
27 jan, 15:30 0 kommentarer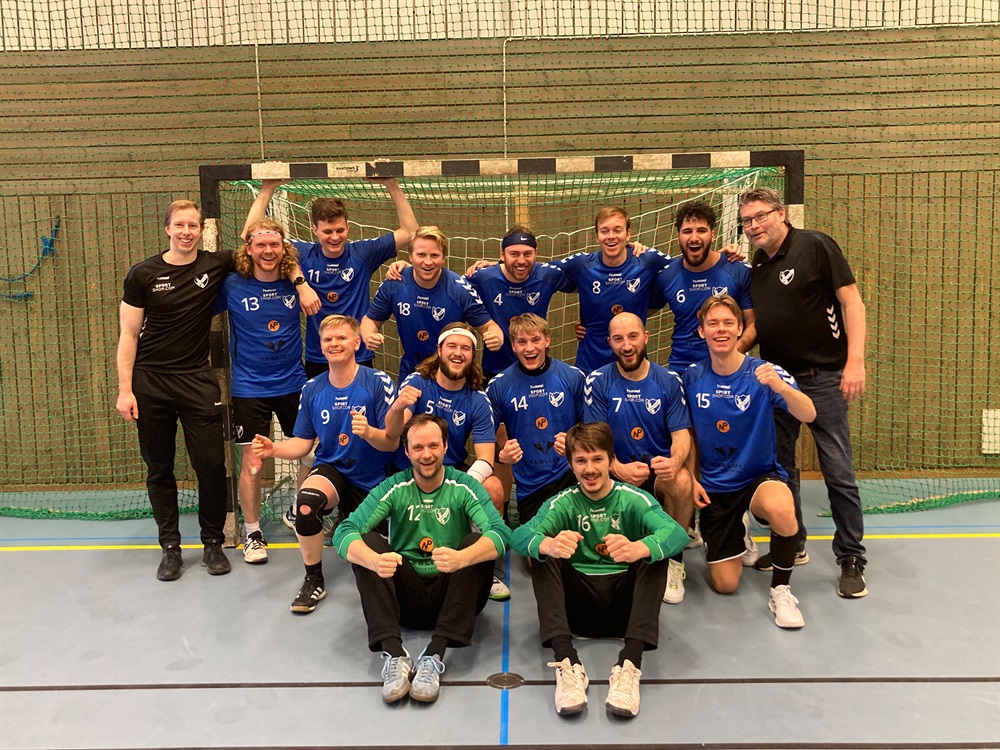 Winning picture of the team. From the left upper: Peter R, Simon M, Samuel S, Carl-johan J, Ludvig J, Jakob J, Elias H, Mikael W. From left middle: Erik J, Wilhelm H, Julien D, Julien F, Philip P.J. From Left Low: Andreas H, Andreas E.
The World Cup is still playing in Scandinavium and even though we have home court, we are playing this game at Frölunda Kulturhus. Unlike last weeks game against Orion, we now have a few more guys in the team lineup especially on nine meter position. Last time we suffered defeat going up against Härryda HK 2, this time around we wanted things to end different.
Starting off first half we wanted to focus on patience in our offence and keep it tight back in defence. We knew since the last game against Härryda that they had a couple of strong shooters and we needed to step up communication to be able to move the defence high on those guys. Offence was working well in the first minutes. We find opportunities on nine meters, from our wing players and from pivot. But we also let Härryda move too freely in defence and we are tied 4-4 after only seven minutes.
We keep pushing in offence and are still finding good opportunities, trusting in our basic game of moving the ball with speed. Our defence also steps up, keeping their shooters away with some great goalie saves! After 23 minutes we are in the lead with 11-7, winning that time period with 7-3. Härryda manage to score on us two more times this half, but we finish the period strong by not letting them score the last five minutes. In offence Wilhelm Hellstrand steps up with a hattrick from wing position as a show of strength before half time. Together with a pivot goal from Julien Dufour we end up leading 15-9 as we take the half time break.
In second half we want to keep pushing and continuing with the speed that we had in the first half. Starting off second half we get a little bit out of focus though. Not enough to let Härryda come back in the game again, but enough to hinder any advances in our lead. That continues throughout the game. Some glimpses of great movement in our offences, utilising the fact that Härryda is starting to get tired out. But we are still struggling in defence with the long crosses to get their strongest shooter in position. Which often results in a goal for them.
We unfortunately also suffer some casualties in second half. One of our international players, Philip Perhult Johnsen from Norway, get injured after scoring nicely on a turn over. Also one of our newest recruits Carl-Johan Jäberg unluckily twists his knee in the middle of second half. Last but not least in the finishing minutes of the game, Simon Martinsson pulls his knee after getting a falling Härryda player on it. Hopefully none too serious moving forward, but also it was enough to pull them out of the game. Which shortened our supply of players on the bench at the end of the game.
Even though we lose second half with 2 goals, we control the game and eventually end up with a comfortable win of 28-24. Top scorer this game is Simon Martinsson (7 goals) and we have two new recruits playing, scoring and wining for their first time in blue CHK colors, Jakob Johansson (4 goals) and Carl-Johan Jäberg (2 goals).
Tabell
Herr 4 Väst Sydväst
M
V
O
F
GM
IM
+/-
P
16
15
0
1
590
416
174
30
16
12
0
4
470
350
120
24
16
11
0
5
443
383
60
22
16
9
1
6
506
461
45
19
16
7
1
8
358
433
-75
15
16
7
0
9
389
425
-36
14
16
6
2
8
388
425
-37
14
16
2
1
13
394
518
-124
5
16
0
1
15
326
453
-127
1